Scotch Irish Combo Roots
a Quinn
and a Connors
ready to Celtic Festival
link to Celtic Festival/Highland Games - Houston, TX...
http://www.houstonhighlandgames.com/
link to the Houston Celtic Festival Facebook page...
https://www.facebook.com/HoustonCelticFestival
Ceud Mile Fa'ilte
A Hundred Thousand Welcomes
image of metal sign from the Celtic Card Team
from Dublin, Ireland
(note: found an image on the local Celtic Festival Facebook page, but it would not copy... maybe this year's festival I'll find one for real & buy it/take my own photo...I like this sentiment--A Hundred Thousand Welcomes)
link to Rathkeltair webpage...
http://www.rathkeltair.com/
Yes, there was a Celtic Rock Band--complete with a bagpipe...
a sound you don't normally hear, only caught the end of the day set on the main stage
YouTube Video - Rathkeltair
Fermoy Lasses
I've never seen anyone play pipes like this...in the intro he (is that Neil) mentions this is the last song before the person leaving Ireland going to America use to hear before they passed out for the night, but I'm imagining whoever's left playing the pipes at the end of the long night of drinking farewells will pass out after this too...whew...
note: that I love the sound of a well played bagpipe, add to that guitars & drums like a rock band & it's even more interesting to listen to all together...now I'm belated sad I didn't sit in on the main stage earlier at the Celtic Festival in Houston, TX last weekend to hear more of them Live?!
link to The Pride of Bedlam (Pirate) Band...
http://www.prideofbedlam.com/music.html
Hanging with Bedlam CD--got that, had a lot of fun singing along in the car on the way home...
Yo Ho Blow the Man Down...Shiver Me Timers... Beer, beer, beer...
Liked the Dark Lady--am wondering now if she's a real ship...
note: for the Celtic Festival they had a lady fiddle player, which they may not usually have - she was Fab & was happy to catch her...tho know that I've always wanted to play the fiddle so have more interest than some, others will have enjoyed the pirate boys...yo ho ho...
link to Amazon.com - where you can order them if you will, or have a listen & a laugh...
http://www.amazon.com/Hanging-Bedlam-Pride/dp/B00EC580WE/ref=sr_1_3?s=dmusic&ie=UTF8&qid=1399055582&sr=1-3&keywords=Pride+of+Bedlam
video from YouTube - Feb 23, 2014 Sherwood Forest Faire
(is that like a RenFest, am not sure but hope to find out next one)
link to Scottish Accents - Cultural Gift Shop - Houston, TX...
https://www.facebook.com/pages/Scottish-Accents/147166185309990
plaid, plaid & more plaid
or is it 'tartans'
still don't know what the Quinn nor Connors tartans look like
research for another time, tartans & geneology
Quinn could be Scottish or Irish & Connors it appears is all Irish
link to the Scottish Clan Council of Houston, TX...
http://www.scottishcouncil.com/
Scottish Rag Dolls
from Scottish Accents cultural gift shop table at the festival
plust the official Scotland Flag clings for the car windows
wearing the Celtic Pride Proudly
Celtic knots
Celtic knots often found in circles or inside a triangle shape
earrings from another vendor
(forgot to pick up their card...next festival...)



not just a celtic knots in earrings, in silver
but that the triangle or circle they can usually be in is not there
so the number three is most evident--my fav number 3
link to more on the three knot celtic symbol - here called the triskelion celtic symbol...
http://www.whats-your-sign.com/triskelion-celtic-symbol-meaning.html
triskelion = 3 legged in Greek (as in 3 legs running)
~~~
And all my relatives, that I know of, are from Kilmarnock, Scotland
One day a revisit, as my mother is buried there with her sister & her sister's husband...
link to the Wiki about Kilmarnock, Scotland...
http://en.wikipedia.org/wiki/Kilmarnock
see the red square?
that's where my Quinn Clan started, or at least for me...
link to the City of Kilmarnock, Scotland, UK...
http://www.kilmarnock.org.uk/
there's coal mining there
my mother's dad, my grandfather, was a coalminer
he could of come from Ireland to Scotland to marry a Scottish woman
but we don't know for sure, yet...
Google Map - Kilmarnock, Scotland - East Ayrshire, UK - see the green spot with the Kilmarnock Cemetery? that's where my relatives are buried...if only it were closer, across the 'pond' sounds so near...
Kilmarnock, Scotland - Google Maps
link to Visit Scotland - Kilmarnock...
http://www.visitscotland.com/en-us/info/towns-villages/kilmarnock-p243171
note: where the largest Burns Mounument in Scotland is located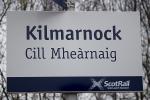 new gaelic railway signs, this one for Kilmarnock (or read below, if you can--in gaelic)
from the link for the Scottish Rail webpage, photos page...
http://www.scot-rail.co.uk/photos/Infrastructure/page1/
link to knowing more about the (mighty) Quinn's...
http://en.wikipedia.org/wiki/Quinn
note: there may or may not be a Quinn DNA Genetic Genealogy Project going on...
again, further research...
~~~
Link to the Celtic Gardens - Houston, TX...
http://www.celticgardenshouston.com/about/index.php
No, it is 'not' a Gardens--it's a Pub with a Patio
I didn't know there was one in town--perhaps the social gathering place for the Irish & the Scot's
if they're in downtown or is that mid-town...but it's a big town, so there's bound to be more (big town as in the 4th largest in the whole of the US - Houston, TX)
And in reading about Pubs in Houston--tho I don't visit them...find the only Scottish Pub, Kelvin Arms is in the West Univ or is it Rice Village area...may go wander in there as I read there's a vaulted library room, if there's no smoking & even bad coffee then I'm up for a visit with some friends, who can order a pint on their own & I'll browse the books...
photo by Hande J. of the vaulted library room in Kelvin Arms - The Scottish Pub
from the Yelp page...
link to Kelvin Arms - The Scottish Pub - Houston, TX...
http://www.yelp.com/biz/kelvin-arms-houston