a hunting we will go...
hunting & gathering rather...
it's a genetic thing that I can't shake...
must hunt & gather...
in this case, this past week, it's been furniture...
'n stuff here abouts or there abouts or in these parts...
(gettin' my Texas on, not in furniture - ever - only in speak-xas...)
Where'd I go on the hunt:
Home Goods The Woodlands
Home Source Warehouse
Home Source Post Oak Store
Macy's Furniture The Woodlands
Infinity Custom Furniture/High End Furniture/Architectural Details FM2920
Fashion Home on Travis, downtown Houston
Arhaus Galleria Area/Post Oak
Danish Inspirations Fondren
The Dump
Trader's Village flea market
Coffee breaks:
Inversion Coffeehouse
or is it Imersion House
(I remember it when it was a 'real' inverted art house
next door to the Art League - Montrose...yes, I drove by--more than once...)
Foodie breaks:
Three Kings Day
Epiphany
aka Day One of King Cakes
this year it was French Style
Gourmet Bakery The Woodlands
(mini me--the regular version you get a gold paper crown & a ceramic bean inside)
and this was also a Coffee break - macchiato please :))
link to High Fashion Home...
http://www.highfashionhome.com/
note: there is a Fabric Store across the street, have never been, since there are also boltsfull at the High Fashion Home store as well...and then there's the part about I can't sew...so here back in the Sale Section of the store, up on the 4th floor I think it is, was the type of stand for a big copper tea tray from a Souk find my friend owns...only hers got broken in storage/moving, here the 2 of them together go, on sale, for over $500 - when she only wants the stand, but if they've found one surely there's one in town somewheres...this too looks unfinished, or maybe she could stain it herself...anyways, only photo I took this time (see my previous RaininLafayetteBlog for another visit to the High Fashion Home Store when I took a lot of photos of a lot of things that caught my eye?!)
at Fashion Home found a bin of these, dolls, puppets...
from...Unemployed Philosophers Guild
little thinkers - William Shakespeare
yes, it is a thing & a webshop...
link to the Philosophers Guild - Unemployed Philosophers Guild...
link to the Little Thinkers - "inspire, enlighten, cuddle"...
http://www.philosophersguild.com/Little-Thinkers/
note: I sent the photos, the link, to my theatre/puppet people friends back in Lafayette, LA...
there are also finger puppets too on the webpage, all for sale...
I would of liked to find the Little Thinkers - Frida Kahlo doll there... :))
coffee (art) break...
Inversion CoffeeHouse
at the Art League Houston - Montrose Blvd
link to their Facebook page - Inversion Coffeehouse...
link to Yelp - Inversion...
link to Urbanspoon - Inversion Coffee House...
link to Art League Houston - they're in the same building, in the back of the Inversion Coffee House...
link to Wiki - about the Inversion house/artwork...
note: I saw the original house, use to drive by, am not sure I ever stopped to take a photo...
am happy they took a photo to put on the glass of the Art League/Inversion Coffeehouse window...
out front too in the median there is an artwork, a long wood curving funnel shape that reminds me of say a Cat in the Hat adventure...
link to a Blog with some great photos of the now funnel shape wood artwork in front of the Art League...
(note: yes, it's in Spanish, you can translate if you want to read or just enjoy the photos of the art installation...)
link to the Vimeo of the Documentary the 2 artists who created the Inversion House did of their Havel Ruck Project back in 2005 when they took 2 condemned houses that the Art League owned to make it into an art installation, before their demolition & a new building for the art school/studio/coffeehouse went up in it's place - 6 min's #publicart ...
'cackle' bird swarm
or I call them that--they're 'grackle' birds
which they do sound like that, either/or
somone made a YouTube of another swarm in Texas
link to the 'Grackle Attack' (as he calls it--insane...indeed...)
http://youtu.be/45deobOJA2g
note: there are a lot more 'Grackle Attack'/'Swarm' YouTube Video's...
I didn't have the presence of mind to make a video, not this time - I took these pics out the car window, where I was safe, inside...
this was encountered, after my furniture shopping to...
Home Source Post Oak Store
Gallery Furniture Post Oak Store
(skipped the Container Store)
further down to Arhaus
and then a coffee break after this bird encounter,
luckily no big black birds coming thru the windows...eee...
had a The Birds moment...
link to the Wiki, if you want more, about the Grackle bird...
note: I still think they were one of the inspirations for Alfred Hitchcocks, The Birds movie
link to Infinity Custom Furniture/High End Furniture/Architectural Details - FM2920...
(note: driving back by the big square pink box building on the corner, find another name for it...
after High End Furniture or Architectural Details, there's one with webpage...)
http://www.infinitycustomfurniture.com/gallery/index.php/pages/show/Landing+Page
Gallery, Upholstery, Blog
link to Home Source - "furniture from far away lands"...
warehouse: 1075 W Sam Houston Pky No, Houston, TX 77043
(note: on business card...
1055 W Sam Houston Pky N #113 Houston TX 77043 713.984.1419)
store: 1705 Post Oak Blvd, Houston, TX 77056
link to Gallery Furnitre...
note: I went to the their smaller Post Oak Store
I have been to the Circus Tent, Circus feel as well, Giant (again aka Texas Size) store off I-45 & found nothing--if you want to have a long convoluted indoor walk for exercise with a view then by all means go find out for yourself...at this smaller store I found a lot of tags said something about Only One or Last One, but then I was told that just meant that it's unique--others from the warehouse or in inventory, like not on the floor, could be different...as in the grain of the wood could be different, so they warn you--it must be a thing, that folks see something, order it to be delivered then say "that's not what I saw in the store...I don't want it" then return it & end up back at the store getting the floor model (really that was not encouraging, at all...)
link to Arhaus - Houston Store - Post Oak/Westheimer, across from The Galleria Mall...
note: where the old Barnes & Noble use to be, sad the Bookstores are gone, but at least they recycled the store for something useful...I liked, tho wouldn't pay that much for, their Curiosity Cabinets under Shelving & Storage--only they're not in the store until February to actually look at...I like opening doors & drawers before just ordering something as big as this right...also I found they Recycle a lot of wood & metal, so that was also good to see--these cabinets it says are made my Indonesian Artisans, that I would hope are also fairly treated/paid for their woodworking craftsmanship (then you don't mind paying more for such pieces of furniture...) then I'm reminded I was not an Expat in Asian or Malayasia or Indonesia or China, so I didn't get to collect these things as some of the Expat ladies did on their assignments...I did & do still try to support Local Artists no matter where I've lived, in any small or large way I can, so here's to Handmade/Local Artists everywhere...
sigh...if my living room looked like this...
I am enchanted with the low coffee table/end table, made in Italy, called Element
made by Calligaris - black tempered glass top, walnut wood frame
link to Danish Inspirations - Fondren (aka Furniture row in Houston)...
note: we splurged one year, a lot of years ago, for a whole bedroom set from here...
it's moved a lot--first off to Qatar, back to US, then Norway, back to US - Lafayette, now Houston...
link to Calligaris - US webpage...
note: found 6 stores in TX, only 1 in Houston
1 in Houston, 2 in Austin, 1 in San Antonio, 1 in Dallas, 1 in McAllen
Browse the Catalog, it's a lot of fun to see how the Italian designers do home furnishings
197 pages, now that's a catalog y'all
their Flag Ship Store is in Paris, as in France
it's hard to find a square rug, really it is - this one an 8 x 8
at, of all the places I never expected, The Dump & for about $500, again a surprise
you know when you don't have a real Souk to go visit or a friend's friend Carpet Guy to go visit...
link to The Dump...
note: I have mentioned more than once how awful the name, because you nearly always have to explain yourself--no, I'm not trolling the garbage dump...
beyond Texas Stars...
there are iron/painted bottle openers in fun tropics/fishing/mythical shapes
I was tempted by the mermaid
a find at the Trader's Village flea market, but not 'the' find of the day...
Steampunk Brooch
my Find of the Day
what's Steampunk without a copy of the Maritime Octopus
link to the giant, aka Texas Size, flea market...
http://tradersvillage.com/houston/
note: was told they do do Comic Con, last one in Galveston, next one downtown at George Brown Convention Center...or they do do Trader's Village Flea Market on weekends--I found them on Sunday...
I will wear this for the next Steampunk & Maker's Fair, back in Lafayette, LA in November, 2014
along with a few other bits & bobs mind you...
French Style King Cake
link to Gourmet Bakery The Woodlands - "Live Like a Parisian"...a French baker...
http://www.thewoodlandsgourmetbakery.com/
note: this was also a Coffee Break--they have a lovely Italian espresso machine & serve Italian Bistrot coffee (that I first tried at Great Harvest Bread Co, The Woodlands)
~~~
Online shopping break:
after found in Style section of Houston newspaper
(as previous owners paid for the newspaper for a month so why not 'read' it)
links to mucho mucho bueno bueno...
http://www.muchomuchobuenobueno.com/
mucho mucho bueno bueno: CUSTOM RINGS ///
For 2014 The Bueno Shop will be offering Custom rings all year round instead of just four times a year.
We are working really hard to ma...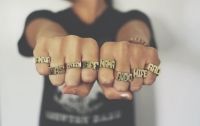 mucho mucho bueno bueno The Bueno Shop Mama Ring...
http://buenobueno.bigcartel.com/product/id-ring-mama
(note: they are made in Brass or Silver...I shared their link on Twitter & was trying to come up with all the 3 letter samples you could make into this ring...besides their examples of bff or someone's initials or mama...I think I put #lol or #mom because I didn't see they could do 4 skinny letters too, which expands the possibilities...as does more than one ring, you can go up to every finger & your thumbs too...hmm...what to spell out, Oh the fun... ;o))
Find mucho mucho bueno bueno on Instagram here...
For more updates on shop follow us on Instagram ///
@BuenoBrandi
@iHeartBueno
@The BuenoShop
~~~
More online shopping:
West 23rd St. Vintage
"A curated collection of vintage, found & upcycled items for the home"
links to West 23rd St. on all the Social Media...
https://www.facebook.com/West23rdStVintage
http://instagram.com/west23rdstvintage
http://www.pinterest.com/W23rdStVintage/west-23rd-st-design-portfolio/
link to West 23rd St. Vintage Esty Shop...
http://www.etsy.com/shop/West23rdStVintage
link to West 23rd St. Vintage Blogspot...
http://west23rdstvintage.blogspot.com/
note: she won me over with cute mutt dog in a holiday party bowtie...that & finding out how well she's done out of her garage--there is no brick & mortar shop yet for her...I like Kristy's style...I am also hoping she'll turn up a wood stand replacement for my friend's big copper tea tray that she bought from a Souk in the Middle East when she was an ExPat--I'll keep running the streets with an eye open for one, but where oh where are the big Asian goods/antique warehouses anylonger in Houston, TX or there abouts...hmm...
from past Pottery Barn sale of a Marrakesh Tray Table
as in a Morrocan/Mediterranean Tray Table...
I'd call a tea table & not a cocktail nor a coffee table...
but these legs only older or darker or more decorative or more like you got them in a Souk, is what my friend is looking for...good luck huh...who knows, maybe one will surface...
~~~
Where I'll go next, hunting...
Crate & Barrel
Pottery Barn
RH - aka Restoration Hardware, I've gotten a stack of catalogs A Mile High (or again, Texas Size) when we moved in so I need to go check out why the ridiculous pricing in person...
all 3 are in Highland Village Shopping on Westheimer, past The Galleria, over the railroad tracks before you get to the Giant HEB, Central Market (aka grocery store)...
link to Highland Village Shopping Center...
http://www.shophighlandvillage.com/
link to Pottery Barn Furniture...
http://www.potterybarn.com/shop/sale/sale-furniture/
link to Crate & Barrel Furniture...
http://www.crateandbarrel.com/furniture/
link to Restoration Hardware Furniture...
http://www.restorationhardware.com/store-locations/index.jsp
(note: this is 'not' a Hardware store, don't let the name fool you--nor the restoration part either...)
~~~
+ a drive by/stop in or two or three...
first stop in to--Tuesday Morning...
link to Tuesday Morning...
http://www.tuesdaymorning.com/
(note: where I actually found a small throw rug for the dog dishes, then another half circle rug for the fireplace...I was surprised--when you're 'not' looking for something that's when you find it...or so it seems this time...)
then second stop in to--a Consignment Store...
Repeat! Consignment Superstore
"A Smart way to buy, the best way to Sell"
link to Repeat! Consignment Superstore...
www.repeatconsign.com
12558 Westheimer, Houston, TX 77077
281.493.3377
(note: actually found a coffee table/end tables with black tempered glass like the Danish Inspirations wood framed ones, only they were in black metal frames & 2 were available off the floor or there was 1 left in a box in the back...these from a warehouse liquidation stock, so not even 2nd hand from a home--which there were many pieces like that in the store...and of course way/Way cheaper than the ones that will take at least 8 weeks to order, from Italy...)
So I took measurements, went home, looked over the other measurements, thought about the 3 tufted leather black square poofs too, but still can't decide...should I just leave the small old black trunk as a coffee table & the 2 matched large square glass topped metal end tables or not... hmm... ponder ponder... procrastinate procrastinate... then a winter storm delay... continue pondering...
third stop in to--Picket Fences...
link to Picket Fences Decor...
http://www.picketfencesdecor.com/
(note: where yes there is furniture & placemats & more rugs & fake flowers/plants, but I fell for the pillow cases & then the Sid Dickens tiles...)
link to Sid Dickens & his gift decorative tiles...
http://www.siddickens.com/
(note: or "memory blocks" as he calls them on his webpage, with a gallery & to buy or retired "memory blocks" or collections or themes by years...they do in a grouping make a really lovely art wall, as I've seen now in the Picket Fences showroom/store...)
'Pierrot' from his All Collections - 6"x8"
from Sid Dickens webpage To Buy
note: this one I saw in the store & thought of a healing friend who loves cats
on the webpage it's $92, but in the store I know she said they were less than that...
I like it's a cat, for a friend, has a ruffled Shakespeare type collar, plus even a wee gold bell around it's neck...but even at $10 or $20 or more cheaper I could only comfortable spend that kind of money on family & only if it were truly an object that they would cherish--he is at the very least a Made in the USA artist?!
link to Faceplant Dreams...aka fun sayings pillow cases...
http://faceplantdreams.com/index.html
note: got a Queen/King gift set for friends during a Mardi Gras stay over coming up, soon, like end of Feb/first week of Mar...but many other tempting ones on the sayings list--overheard the shopkeepers say they needed to order more Sleeps with Dogs...really that would be a perfect one for me, if someone were looking for an odd gift idea...not often you buy folks just pillow cases, as a gift...also Cowboy/Cowgirl would be a fun one, in TX especially (or maybe for my family/friends in Colorado too...) then there's a Mrs/Mr for newlyweds...on & on the list goes up to 40 plus sayings or inspirations...100% cotton pillow cases, not packaged but in a fabric envelope...who would of thought--add sayings & they'll sell like hotcakes, or almost, they're deff not as cheap as hotcakes right?!
Queen/King...complese with a crown...
Oh yes--they spell Mardi Gras to me...
perfect Thank you Gift ready to go
Thank you very much--Faceplant Dreams!
Sweet Dreams...Y'all...they need to add Y'all to a few pillow cases am thinking, now am also thinking why they don't do custom pillow sayings--can you imagine what folks would come up with...no, never mind, don't go there...